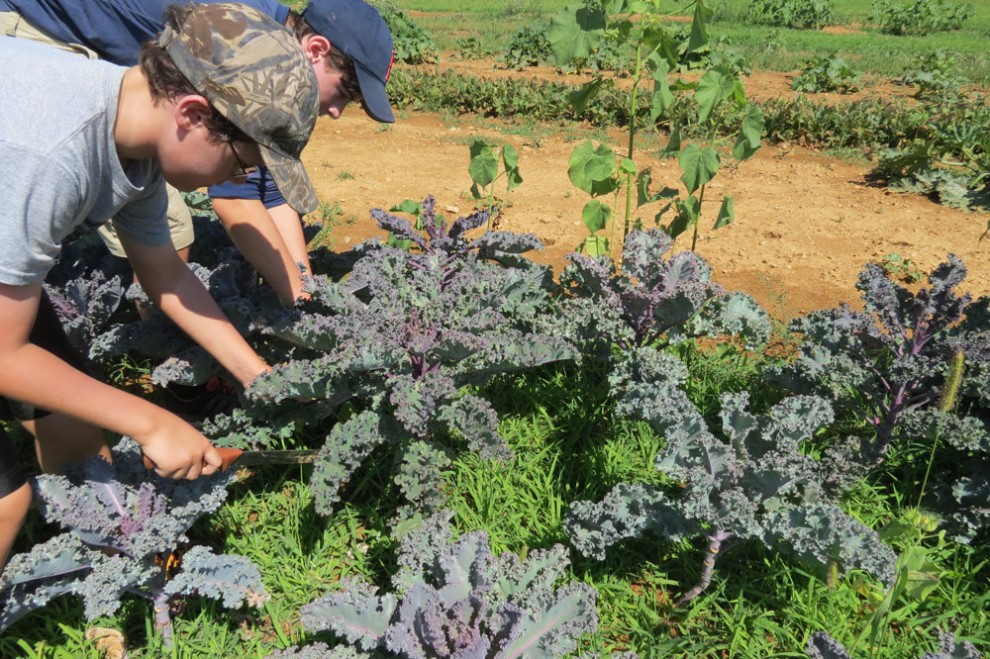 After a successful first season of partnership with community organizations including Jewish Family Service and Congregation Brith Sholom, Monocacy Farm is looking to expand its programs to give more people in the Lehigh Valley access to fresh vegetables during the spring and summer growing seasons.
The farm was originally launched in 2013 by the Sisters of Saint Francis to provide low-income families and the homeless access to organic fruits and vegetables, as well as educational programs on healthy lifestyles and nutrition.
The goals of the Monocacy Farm project include "providing area residents and low-income families access to affordable organic produce and supplying local shelters, food pantries and soup kitchens with donor-sponsored organic produce during the spring and summer growing seasons," according to a statement released by the Sisters of St. Francis. Half of the farm is allocated to each of the two major goals, with opportunities for community members to have their own growing beds in addition to the produce that gets donated.
This past summer, Monocacy Farm began a new community service production farm that provided weekly supplies of organic vegetables to low-income families, area shelters, food pantries and soup kitchens. Collectively, these organizations assist thousands of economically challenged individuals and families in the Lehigh Valley and provide more than a half-million meals each year to those who otherwise would not eat.
"It went well, particularly for our initial year," said Bob Drake, project manager of the community service portion of the farm, but "we wish to expand the program. I would like to double the number of beds that we plant, and expand both the number of organizations serviced and supported and increase the volume of produce that we can offer to each." 
Last year, each organization received two-to-three bins of vegetables each time volunteers collected, with some organizations like JFS receiving fresh vegetables every week. And, since the beds are tended by volunteers, Drake is always looking for new people to help. Congregation Brith Sholom was "very consistent" in its involvement, he said, adding that he hopes to see more involvement from the Jewish community overall.
Once more produce is available, Drake wants to reach out about options for food preparation. "We discovered that some chefs or cooks at soup kitchens and homeless shelters didn't know what to do with certain of the vegetables, kale, for example," he explained. Drake is now in discussions with Sodexo to arrange cooking demonstrations for the chefs at soup kitchens and shelters as well as staff at pantries "so that they will know how to do some options for preparing good-tasting meals using some of the vegetables that individuals aren't necessarily familiar with," he said.
For the food pantries, this would include short cooking demonstrations that would show "three or four different ways to use each vegetable to encourage them to familiarize themselves with menu options with these vegetables."
Monocacy Farm will also be offering new kinds of vegetables in the upcoming year, such as tomatoes, in addition to vegetables they have offered in the past, such as kale, okra, cabbage and shallots.
This year, volunteers will have the opportunity to "adopt a bed," something Brith Sholom is pursuing, "that would entail them being involved in the preparation of the bed, putting compost in, planting the seeds or transplants at the beginning of the season, and then tending to it, helping with the watering and weeding of the bed as the season goes on and then harvesting each week," Drake said. "The more volunteers I have to adopt a bed, the more beds I can plant, and maintain," which ultimately leads to more people getting the help they need.
WANT TO GET INVOLVED?
To learn more about volunteering or donation opportunities at the farm, contact Bob Drake at 610-867-8494 or bdrake@schoolsistersosf.org.
Congregation Brith Sholom is seeking volunteers to help tend beds and sponsors to help families in need. Call 610-866-8009 or visit www.brithsholom.net to learn more.
 
Jewish Family Service is looking for volunteers to help pick up produce from the farm this summer. Call 610-821-8722 to sign up.